The Easiest Way to Create a Clean Commercial Headshot Look with a White Background
Are you looking to create stunning headshots with a clean commercial look and a white background? In this guide, I'll show you the easiest way to achieve that using just one light. As a professional wedding and portrait photographer, I understand the importance of a simple setup that delivers beautiful results. Whether you're limited on space or prefer a portable setup, this technique will help you capture impressive headshots with ease. So let's dive in and discover the secrets to achieving a clean commercial headshot look!
The One-Light Headshot Setup
In the accompanying video, I walk you through the process of setting up a one-light headshot setup for a clean commercial background. Here's a brief overview of the key points discussed:
1. Lighting and Background To achieve the desired headshot lighting, it's crucial to maintain enough distance between your subject and the background. This helps create a distinct exposure difference between the subject and the background, resulting in a clean commercial look. Remember to position your light based on the inverse square law, ensuring that the light is farther away from both the subject and the background.
2. Soft Light for Flattering Results Using a large soft light source is essential for creating a flattering headshot. I recommend using a translucent umbrella or a deep umbrella with a diffuser. The larger the light source relative to your subject, the softer the light and the more it minimizes shadows. This setup not only enhances your subject's features but also helps reduce fine lines and wrinkles while eliminating unwanted shadows on the background.
3. Equipment and Camera Settings For this one-light setup, I utilize the Profoto B10, a powerful light that adapts to different shooting environments. I prefer using an 85mm lens, such as the Canon RF 85mm 1.2, as it produces flattering results for headshots. However, you can also use a 70-200mm lens or the Canon RF 135mm 1.8 if you have enough space. I shoot with the Canon R5 camera, which offers high megapixel count for versatile usage.
Regarding camera settings, I typically set my ISO to 320, aperture to 2.5, and shutter speed to 1/200th of a second. These settings help block out ambient light and keep the focus on the subject's eyes, which is crucial for headshots. By using a flash with a color temperature of 5600 (matching daylight), you ensure consistent lighting without color mixing issues.
4. Creating a Clean White Background While achieving a perfectly pure white background may require considerable distance based on the inverse square law, there are editing techniques you can use to enhance it further. The video demonstrates how you can utilize a powerful retouching and editing program like Evoto to refine the background and achieve the desired level of whiteness. This tool also provides convenient presets and syncing capabilities for efficient batch editing.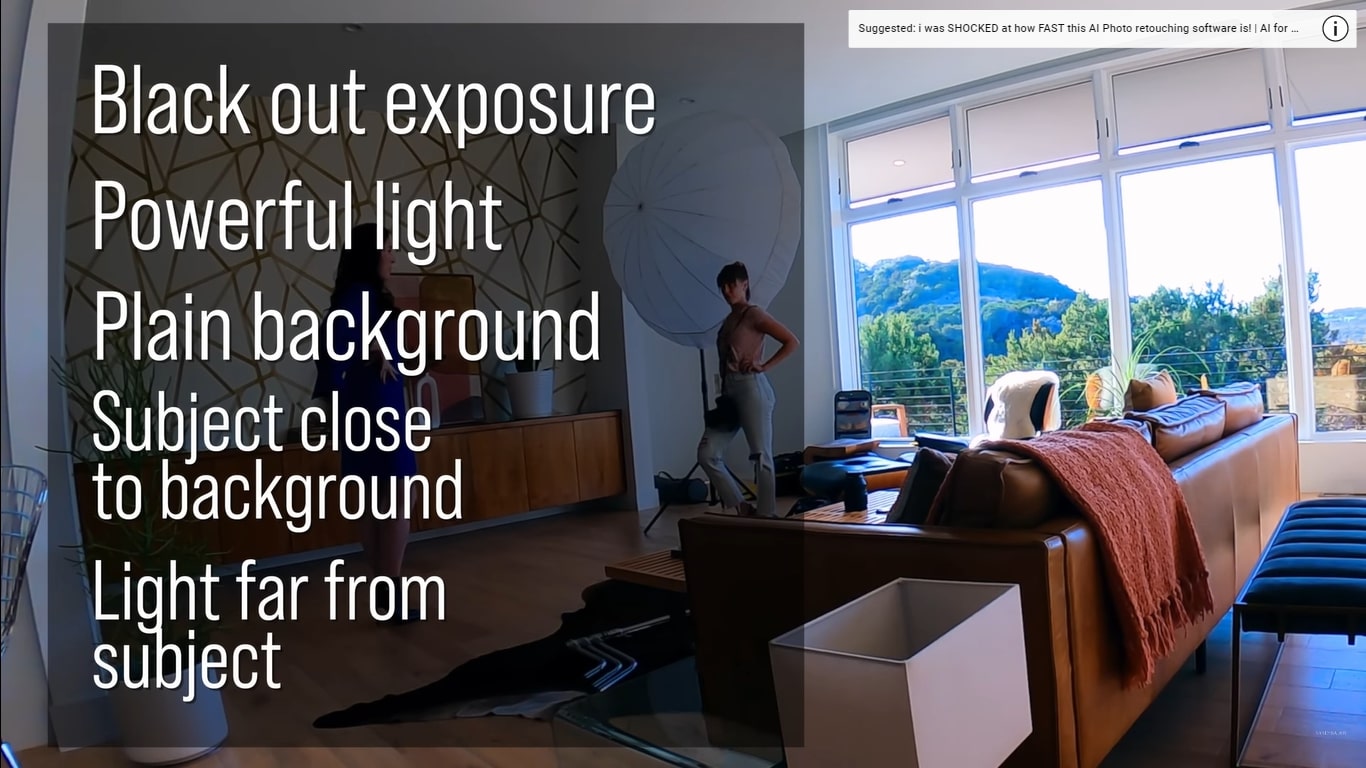 Conclusion
By following the steps outlined in the video transcript, you can easily create a clean commercial headshot look with a white background using just one light. Remember the key elements: maintaining distance between the subject and background, utilizing a large soft light source, and selecting appropriate equipment and camera settings. With these techniques, you'll capture headshots that impress your clients, whether they use them for billboards, websites, or social media platforms.
Incorporate the editing tips shared in the video, and you'll have the ability to fine-tune your headshots and achieve a consistently clean white background. Don't hesitate to explore Evoto, the powerful retouching and editing program mentioned, which can significantly streamline your workflow and produce remarkable results.
So why wait? Give this one-light headshot setup a try and see the impact it has on your commercial photography. Be sure to watch the accompanying video for a visual demonstration and further insights. Happy shooting!
Remember to like the video, subscribe to the channel, and click the bell icon for future updates. Feel free to leave your thoughts and questions in the comments section. Until next time!